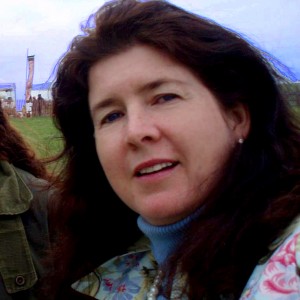 Molly Patterson
has worked on many projects in a variety of capacities for more than 20 years. She was on the production team of the Emmy Award winning, NBC Documentary "The Mystery of Sphinx"; she was the lighting department of major motion pictures, such as "Philadelphia", "True Lies" and "Twelve Monkeys" She also has worked in the editing department for NBC's coverage of the Olympics in Sydney and Salt Lake City, and their coverage of the tennis championships at Wimbledon and at the French Open. Molly has also operated camera for various documentaries and did lighting for the hit TV Show, "Law & Order."
Molly Patterson has produced and directed the talk show, "New Realities" with Alan Steinfeld in New York City. Her own show, "Meetings With Remarkable People," with interviews with cutting edge experts in various fields which airs each week on the Manhattan Neighborhood Network (
MNN.org
) each Wednesday evening at 9pm Eastern.
As the great granddaughter of Frank Patterson who co-founded NCR, she has been researching the Patterson history for years in hopes of producing documentaries to preserve her family's contribution to history.. Molly has an innate sense of American history, being a descendant of Arthur Middleton, who signed the Declaration of Independence, and is related to Edward Rutledge who also signed the Declaration of Independence, as well John Rutledge who was the second Chief Justice of the United States and a co-signer the US Constitution.
Biography;
Molly Patterson may have been brought up with the proverbial silver spoon in her mouth but she has always known that there is something more to life. In fact, financial independence has always enabled her to take risks and follow her heart, as opposed to the herd. Always passionate about filmmaking, Molly effectively ran away to the circus at an early age and spent 20 years behind the camera in every capacity from gopher to gaffer. After working on the revolutionary documentary in Egypt, "The Mystery of the Sphinx," which won an Emmy for NBC and was hosted by Charlton Heston, Molly pursued the spiritual path in earnest, beginning in the Yucatan and culminating with a trip to India for the turn of the Millennium and eventually to Hawaii where she had a glimpse of that elusive state that many have called enlightenment itself.